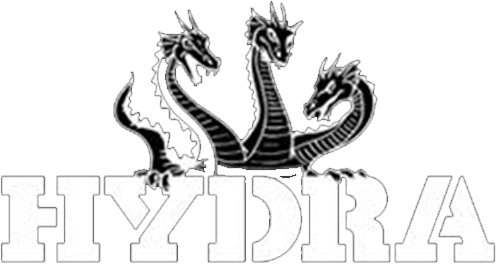 Automated Cleaning Systems
These washers are used in a variety of applications ranging from casting & machining to heavy equipment, engine rebuilding and automotive repair.
One Parts Washer, Unlimited Applicatons
Hydra-50 GB What's Your Shade of Green?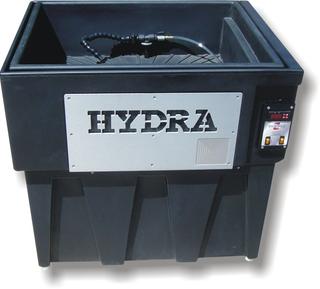 The Hydra 50 compatible chemistries have a "detackifing" nature to keep grease and oil off of your parts as well as a rust inhibitor, triple filter system for long chemical life and heated machine constructed with heavy-duty polyethylene plastic.  The Hydra series of washers is also available with a rotary table, a basket with rotary manifold, and a soak station with a brush pump.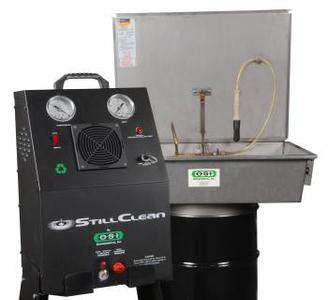 Available pressure ranges from 400-1000 psi.

50 gallon sump capacity for extending service cycles.

Easy access, easy clean sump.

Digital temperature control.
Low liquid level protection.

Over temperature protection.

Three stage solution filtration.

Flow through parts cleaning brush for small or delicate parts.
Heavy duty casters for ease of movement.
Work area dimensions: 34" left to right.

Work are dimensions: 26" front to back.

Overall dimensions: 39" left to right.

Overall dimensions: 35" front to back.
Work table weight capacity: 250 lbs.

Polyethylene plastic construction.

Sump capacity: 50 gallons.

Electrical requirements: 120 volt / 15 amps / 60 Hz.

Electric heat: 1 kw - Stainless Steel.
Evapo-rust model for rust removal and protection.

Overflow sink for soaking parts.

Add on spray modules for larger parts.
Left and right stainless work shelves (optional).

Oil skimmer for use with splitter chemistry.

Stainless steel rotary table.
Endless variety of spray fixtures and patterns.

Extended spray chamber (optional).
Overall
Height 45"
Width 39"
Length 30.5"
Inside Sink
Depth 10"
Width 33.5"
Length 25.5"
Solution Volume 45 - 60 gallons.

Ground Fault Interrupter Protected.

Adjustable Digital Thermostat with Overtemp.

Standard Flex Nozzle and Flo-thru Brush.

Heavy Duty Industrial Grade Polyethylene Plastic.

Three Level Self Service Filter System for Long Chemical Life.

Control Panel for Heater, Pump Switch and Digital Temp Control.